art + blogging
A fitting subject for my first post.
I attended a press preview at Portland's
Museum of Contemporary Craft
today. When she was discussing Mandy Greer's site-specific installation, curator Namita Wiggers got on the subject of experiencing art.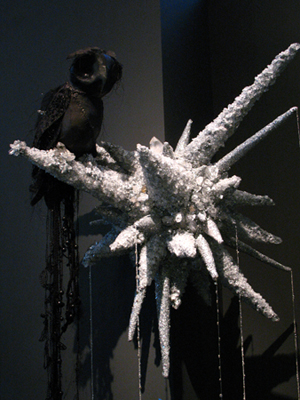 Mandy Greer, "Dare alla Luce," installation view at MoCC
To absorb an artwork is a slow, contemplative process. It often involves returning to the show or site multiple times, allowing different material and conceptual aspects of the work to sink in, reflecting on what you see, how you react, and how your relationship to the work evolves. Even at one sitting it is a process that cannot happen in an instant. Wiggers argued that this process, the experience of art, is an antidote to the modern hyperactivity of technology. If Facebook and Twitter and RSS and iPhones are teaching us to think in bytes, viewing art forces us to think slowly, conceptually. Much the same has been said about reading literature vs. reading blogs.
So where, amidst all this anxiety over dwindling attention spans, does this place the thriving world of
art blogging
? This proliferation of commentary and information is invaluable to a global dialogue on the arts. But is it doomed to go the way of the "book on the wall," so often intrusive on the experience of art? Am I doing my PORT viewers a disservice when I post a description of a show with its calendar listing? Is the blogging sound-bite offering an easy, Internet-ready answer to the challenges presented by art?
Maybe. But I'm not certain that the Internet has changed this argument. The voices of critics, curators, wall text authors, and other intermediaries have long been criticized as taking away from an art piece. And there is something to be said for the purity of a viewer's direct relationship with an artwork. But few would seriously suggest that art scholarship hasn't played an essential role in the development of theory, concept, and history. And contemporary arts journalism, of which blogging has become a key element, is an essential piece of the creative dialogue.
Just remember to unplug yourself once in a while.
Labels: art, blogging, museum of contemporary craft